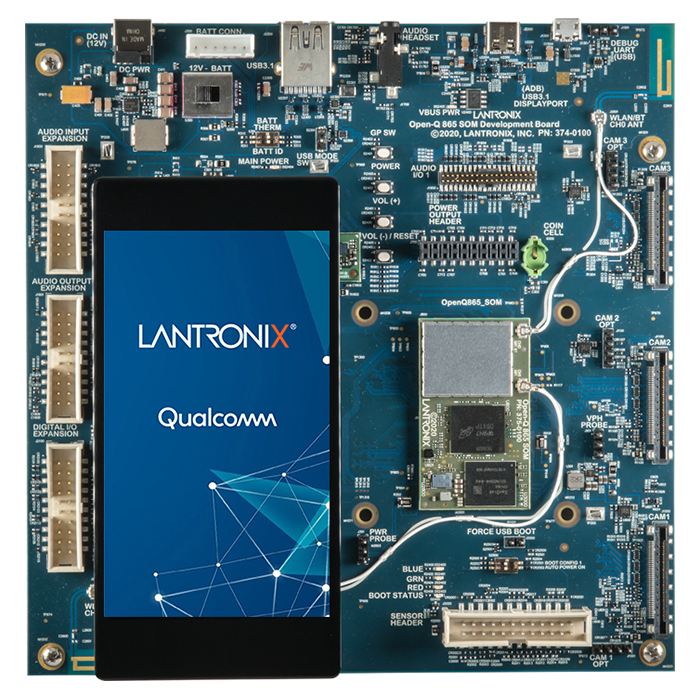 MANUFACTURER:

Lantronix

Lantronix Part #:

QC-DB-U10003

Minimum Order Quantity (MOQ):

1

Minimum Shippable Quantity (MSQ):

1

GLOBAL MSRP/U:

Contact Us

Manufacturer Lead Time:

Contact Us
The Open-Q™ 865XR SOM Development Kit is a versatile, easy-to-use, exposed board platform, powered by our ultra-compact, production-ready, Open-Q™ 865XR SOM. The SOM utilizes Qualcomm® Technologies' heterogenous compute expertise to offer a System-on-Chip with multiple specialized processing cores for powerful AI processing, image and graphics processing, and audio processing.
The development kit provides the ideal starting point for evaluating the Open-Q™ 865XR SOM or developing next generation embedded and IoT devices. The platform consists of Lantronix's Open‐Q™ 865XR SOM, an open-frame carrier board exposing all the available I/O, and a range of accessories to fast track your product development.
LCD and Camera sold separately
Open-Q™ 865XR SOM Development Kit